At some point, you may wish to remove or change the saved payment method on your account. You can make these changes by following the steps below.
Before beginning, please note only credit cards or debit cards can be saved. Additionally, even if you choose not to save a payment method during checkout, Zenva will still maintain the ability to charge you for a subscription if you do not cancel that subscription.


Note: Removing your payment method DOES NOT prevent subscription charges.
Deleting Saved Payment Options
1) Navigate to the My Account page.

2) Select the Payment Methods option on the left side menu.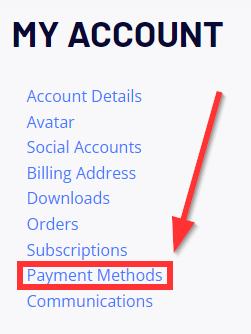 3) Click on the Delete button next to the payment method you'd like to remove.

Note: You can also use the Add Payment Method button to use a different payment method such as a different debit or credit card.