What payment methods are accepted?
For purchases on Zenva Academy, we currently accept payments through PayPal and via Credit and Debit Cards (through Stripe). As both PayPal and Stripe are third-party providers, make sure to comply with their own Terms and Conditions when choosing a method of payment.

Below, you can see a quick guide on selecting the desired payment method for your purchase.
To select credit cards/debit cards through Stripe:
Choose the Credit and Debit Cards (Stripe) option in the Payment section and enter your card details. With this option, you also have the ability to save your card information to use for future purchases!

To select PayPal:
Choose the PayPal option in the Payment section and hit the PayPal button that appears. This will take you to PayPal's secure checkout area to finish the transaction.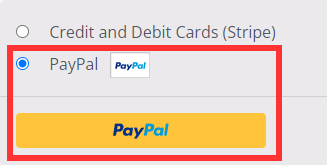 Related Articles

How do I remove a saved payment option?

At some point, you may wish to remove or change the saved payment method on your account. You can make these changes by following the steps below. Before beginning, please note only credit cards or debit cards can be saved. Additionally, even if you ...

[Non-Subscription Products] Why is there a pending payment order listed on my account?

IMPORTANT NOTE: The following applies to non-subscription orders only. In some circumstances, you may notice an order on your Orders page which is listed as "Pending Payment". An order listed as "Pending Payment" indicates that the product was added ...

My payment was declined or I'm having issues with my debit/credit card. What do I do?

On Zenva Academy we use PayPal and/or Stripe to process all transactions. As these are external, third-party payment services, we do not have access to credit card/payment information directly. Unfortunately, due to these limitations, we are not ...

How do I find the order number of my purchase?

In order for us to help resolve an order-related problem both quickly and efficiently, it is best to reach out to us with the order number in your request. These order numbers are unique and given to you for each transaction. There are several ...

What is Zenva's refund policy?

As per the Terms and Conditions that govern our services and that are accepted by everyone using our platform, our refund policy for Zenva Academy purchases is outlined below: 1. Non-subscription payments We offer a 7-day refund period for purchases ...