Whether you're a new subscriber or a long-time subscriber, occasionally payments will fail. When this happens, you can easily retry payment via the instructions below.
Please note that only Stripe or PayPal can reject a payment, so we can't provide information regarding why the payment failed in the first place. For more information, we recommend reviewing this article: My payment was declined or I'm having issues with my debit/credit card. What do I do?
Retrying a Subscription Payment
1) Head to your My Account page.

2) From there, on the left-hand navigation menu, click Subscriptions/My Subscription to access your subscription details.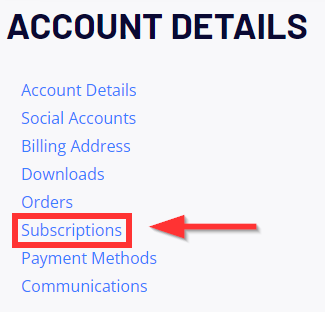 3) Select your subscription (if necessary) and scroll down to the Related Orders section at the bottom of the page. Click the Pay button next to the associated order for the payment failure. This will allow you to retry payment as needed.

As a note, you can also change the Payment Method for your subscription method by following the instructions in the following article: How do I change my payment method for my subscription?