How can I download the source code, or asset files, for my course?
Most of our courses provide downloadable files that can be used in conjunction with the course. This includes materials such as:

Finished project files

Assets used in the course's project

Text-based summaries of the video lessons for the entire course

Presentation materials

... and more!
Course Files can be found on the course homepage after you've signed in and accessed your course via the instructions below.

How to access and download your course files
Login to your Zenva Academy account and click My Learning under the My Courses dropdown menu.





Select the course you'd like to access the course files for. In our example below, we will be using the VR Game Development 101 course. You should select the course you want files for, however.



After the course page opens, select the Course Files tab.




The course files available for the course are then displayed. Click on them to download them.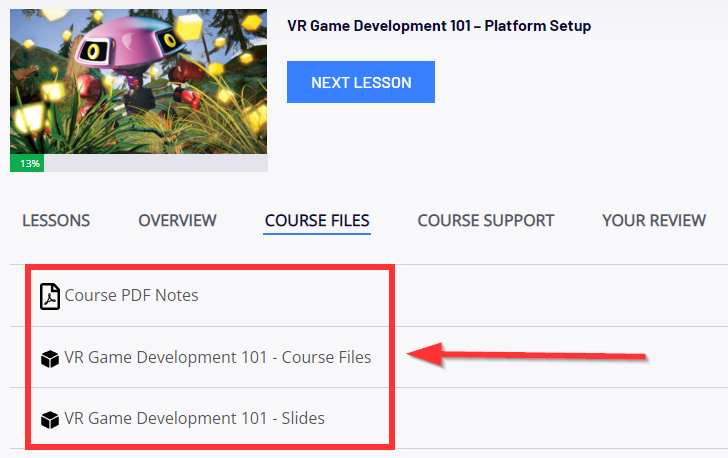 Related Articles

How can I download eBooks that I've purchased on the Zenva website?

After you've purchased an eBook, you will have lifetime access to it, as well as have it available through the Downloads section of your account. The eBook can be downloaded via the following instructions and will be in a PDF format. Please note ...

Can I download the videos to my courses?

At this time, we don't allow video download due to copyright protection. You can, however, download full summaries of the content which covers everything taught in the video lesson. You can find out more via the articles below: How to Access Lesson ...

How can I download/share my Certificate of Completion for my course?

After completing a course or applicable curriculum, you will receive a Certificate of Completion as proof of having completed those lessons. This certificate can be used to help verify your skills to prospective employers and instill confidence in ...

What if I am having trouble with the course content?

Our courses are 100% self-guided educational resources, just like books or other educational media. As such, we have some expectations that our students will be able to search online for technical answers if they get stuck, or if their project isn't ...

How to Install Visual Studio Code for Windows

In this article, we'll showcase how to install Visual Studio Code (VSC), a multi-language applicable code editor, for Windows. If you'd like to install VSC for Mac, see this article instead: How to Install Visual Studio Code for Mac Installing VSC ...