Invoices can be generated for any paid order upon completion of the transaction for that order - even for recurring payments for our subscription service. Your invoice will list the amount paid for however many number of items purchased through that order.
Please note, though, that invoices will generate with whatever billing address is currently set for your account. If you'd like to change existing billing/invoicing details, please see this article: How can I change the billing details for my account?
There are two ways in which you can obtain your invoice, as listed below. Once again, note that invoices are only available for paid orders. If no money was exchanged, such as purchases with our Free Courses, or purchases made through third parties like Humble Bundle, no invoice will be available.
At Checkout
If you'd like your invoice at the time of checkout, you can click the Request Invoice link as pictured below when your order completes.

Once the invoice generates, you will be able to click the Download Invoice link that appears to download the PDF of your order.

After Checkout
You can get your invoice at any time after checkout by following the steps below.
1) Navigate to your My Account page



2) Click the Orders link on the left-hand side menu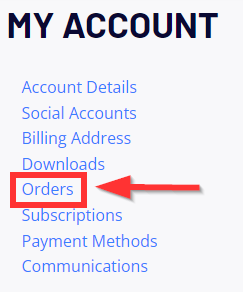 3) Locate the order you wish to generate the invoice for and click the Request Invoice button.

4) Once the invoice generates, click the Invoice button to download the PDF.