Can we increase/decrease the playback speed of the course videos?
You can adjust the playback speed for any video on our website - whether you need it faster or slower to suit your learning needs. Simply follow the instructions below depending on the video player the course you're watching is using.
Please keep in mind that f you make the playback speed faster, you may experience buffering issues. There is, unfortunately, little we can do regarding this - as playback is dependent on your internet speed and the stability of Azure services in your area.
Azure Video Player (2017 Courses and Current)
From the video screen, locate the icon that looks like a Stopwatch. Once clicked, you can then select the Playback Speed you wish to use for the video.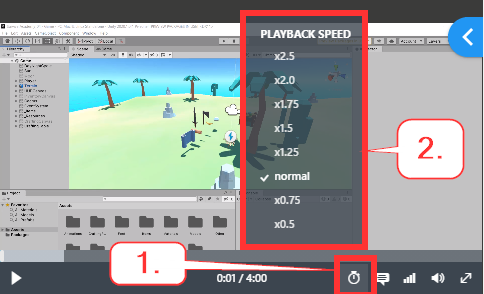 Vimeo Video Player (Pre-2017 Courses)
For our pre-2017 courses (supported with Vimeo), you can change the playback speed by selecting the Gear Icon in the bottom right and then selecting the Speed option. This will allow you to select available playback speeds for your video.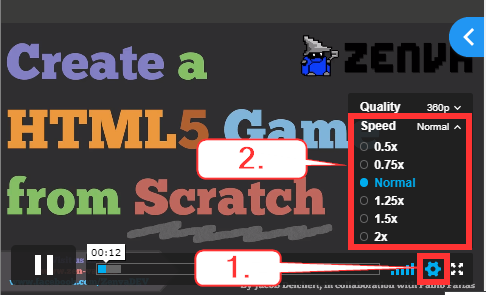 Related Articles

One or more of the videos are not playing. What should I do?

Zenva Academy uses Azure Media Services as the video provider for our 2017 and onward catalog of courses and onward, while older courses mostly utilize Vimeo. If you're having playback issues of any sort, the following sections below will outline ...

How do I report a problem with a course?

Sometimes you may run across issues with a course that extend beyond understanding the material, such as broken videos or missing project files. While we try to avoid issues of this nature, they do still occasionally happen. Fortunately, we offer an ...

What if I am having trouble with the course content?

Our courses are 100% self-guided educational resources, just like books or other educational media. As such, we have some expectations that our students will be able to search online for technical answers if they get stuck, or if their project isn't ...

Can I download the videos to my courses?

At this time, we don't allow video download due to copyright protection. You can, however, download full summaries of the content which covers everything taught in the video lesson. You can find out more via the articles below: How to Access Lesson ...

I bought lifetime access but my course was archived! Why?

Besides our subscription, we often offer lifetime access versions of individual courses, curriculums (through Kickstarter), third-party bundles (through sites like Humble Bundle), or similar. When purchasing lifetime access, you are purchasing the ...